Gentlemen, as you know . . . (hopefully), Valentine's Day is quickly approaching. This can be a high pressure day as we try to meet if not exceed the expectations of our wives on this holiday that celebrates the love between us and our wives. Finding the perfect gift is never easy and usually takes a lot of searching, luck, and what feels like divine inspiration. In preparation for this Valentine's Day consider a Catholic gift for her that shows to your wife and my children how much you love both her and your faith. Here are just a few Catholic gifts for her which could be perfect for your wife this Valentine's Day.
Heart Cross Pendant
This Heart Cross Pendant is a cross made of hearts which typically is found in beautiful white gold. My wife enjoys jewelry and especially jewelry which reminds her of the love from both God and myself.
Amazing Grace for Married Couples by Jeff Cavins, Matthew Pinto, and Patti Armstrong
If your wife is a book reader, even casual or infrequent, then this book could be one of the perfect Catholic gifts for her. This book is part of a series of Amazing Grace books that tell marvelous stories which encourage and challenge all of us. This book tells the stories of many marriages which were on the rocks but were able to bounce back tremendously despite all of their struggles. This book offers hope to all married couples and challenges all of us to step up in our marriages to make them the wonderful relationship we know they can be. Your wife will surely have your ear with these stories and this book could lead to some great late-night or dinner-time conversations.
Pearls of Mary Rosary
The Pearls of Mary Rosary is a stunning rosary many women have fallen in love with over the years. This rosary is gold-plated  and is surrounded by pearl glass beads. If your wife loves praying the rosary and could use a new one, then this might be the perfect gift. This rosary is just one example of many that your wife might absolutely adore.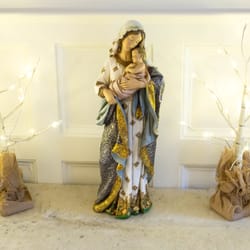 Madonna and Child Statue
The Madonna and child statue is one of the most beautiful representations of the greatest mother and wife to have ever lived. If your wife has a great love for her spiritual mother, Mary the Mother of God, then your wife might absolutely love the Madonna and Child Statue.
St. Francis Garden Statue
A St. Francis garden statue might be just the gift your wife with the green thumb would love. These statues are beautiful and also serve as a birdfeeder. If your wife has the gardening touch and needs some beautiful statues to decorate and bless her garden then this statue could make just the right gift.
These are just a few Catholic gifts for her which you could consider for this Valentine's Day. You know your wife much better than anyone and you know what works for her and what she appreciates. Surprising her with a Catholic gift this Valentine's Day such as these could show your love for her and Christ as well as encourage her in her faith journey. Your children will also see the importance both you and your wife put on each other and God through these precious gifts.